FAQ
Frequently asked questions regarding our garden furniture covers:
Questions regarding ordering & returning:
Many covers can be used for multiple purposes. The rectangular table covers are also often sold for smaller lounge sets. They are also sold for larger BBQs and Outdoor Kitchens. If you do not immediately find the right size please look in another category. A cover is a cover.
What size do I need?
From experience we know that a cover should always be a bit bigger. This makes the cover easy to put on and take off. This also reduces the wear and tear of your cover. For smaller covers like covers for BBQs, banks, small sets of garden furniture etc. with a size of up to 150 x 150 cm, we apply a margin of 5 to 10 cm. A margin of 20 cm is still possible. More than 20 cm can be too big. For larger sleeves we use the rule that 10 to 20 cm margin is good. A margin of 30 cm is still possible. A margin of 40 cm will be too much.
Are the covers waterproof?
Often, the producers claim that their product is waterproof. This is true in theory or in a laboratory setup.
But we know, in practice, that this is not the case. Like a tent, a cover will leak over time. A cover is made of textured textile. The seams are often the bottleneck. Even when a cover is very windy, the inner coating can be affected by wear and tearing. Sometimes it happens that covers around roses and other shrubs get through tiny holes. The higher our quality rating, the higher the waterproofness of the cover. (To see our scores, click on 'Which Cover'.) The score ranges from 1 to 10. A score below the 6 is completely insufficient. These covers should only be used against dirt like bird droppings or tree resin. These covers are suitable for use under canopies and porches.
It is important that no water remains on your cover. If this is the case then the water can sip through the cover. To avoid this, we always recommend placing something, a ball or bucket under your cover so that the water runs out. Regular re-tightening of the cover can prevent seepage.
We have found through various tests that condensation is the biggest problem. Due to temperature differences it is inevitable that condensation occurs (just like in a tent), so furniture and pillows can feel damp if they have been under a cover for a longer time.
Condensation is more common when heavy rain showers alternate with plenty of sunshine. As a result, the rainwater evaporates quickly and then stays under the cover. This is partially avoided by taking covers of breathable material or covers that are fitted with air vents. Condensation may be mistaken for leakage. Do not leave your pillows under your cover for a long time (weeks), they might get wet/feel damp. Also, if a cover is located flat on a table top it may start to "sweat" and arise moisture stains. Always put something underneath (eg a tray) so that you get some distance between the cover and the table top, creating space for ventilation.
Can I leave my pillows under the cover?
This depends on 2 variables. Namely the quality of your pillows and the quality of the cover. For information on the quality of the cough we would like to refer you to the "Which Cover" page and the answer to the above question. As far as the quality of the pillows is concerned, the best thing you can have for outdoor pillows is the Sunbrella combination with QDF QuickDryFoam. A good second is the Ateja Sunproof combination with QDF QuickDryFoam. These quality outdoor pillows are supplied by AppleBee. Both combinations can also stay permanently without a cover. Following are combinations of ordinary foam (polyether) with Sunbrella or Ateja Sunproof. These pillows can withstand rain, but must always be dried again. Extra protection of a cover is therefore highly desirable. Hereafter cushions are called in order of quality: ordinary acrylic fabrics, dralon, spun polyester and cotton. The cushions may get stains from weather influences and from mold due to damp air and / or condensation. Therefore, we never recommend to put the pillows under cover for a longer period of time. If you wish to do this, please keep updated and check your pillows from time to time. For example, let them breath on a dry and sunny winter day and take off the cover. Cushions permanently lying under a cover are always your own responsibility.
What is better, a cover or a cushion storage bag?
From experience we know that using a cover works out better than using a storage bag. If water penetrates a cover, only only one pillow will get wet. If water penetrates a cushion storage bag, all pillows will get wet. With a cover on top of your furniture automatically obtain more air circulation and ventilation. With a bag you have the maximum amount of pillows in a minimal space. Storage bags are usually quite big and very heavy. Therefore, bags are worn faster. It's always a better idea to take 2 small bags than 1 larger bag. Another drawback is that the zipper is never waterproof. So, if you want to use a bag outside, always keep the zipper at the bottom and loose from the ground. Therefore, we advise not to use bags with a quality rating of 7 and lower outside. Bags with a rating of 7 or above, preferably used in combination with a cover, roof, porch.
My cover doesn't fit, can I return it?
Yes, you can return if the cover is neatly packed in the original packaging. If you do not want any other cover you will get your money back. If you want a different cover then the difference will be calculated plus shipping. Returning your goods in our physical store is always free.
Which cover is the best?
On our page "Which cover?" we have compared all the different covers. We also gave each cover a rating on a scale of 1 to 10.
Do the garden furniture covers tend to discolor?
That depends on the material used:
- Polyethylene, not or hardly;
- Non-woven 3-layer construction, not or hardly;
- Polyester, yes.
The most widely used fabric for protective covers is polyester. There are many different quality grades available in polyester. Polyester has the following features: polyester hardly crease and the fabric does not fade in indirect sunlight. Also polyester has a high abrasion resistance. Polyester is a relatively dense fabric that provides protection against rain. Combined with a PVC or PU coating on the inside, a good product will result. Cheaper polyester fabrics are less colorfast, the better fabrics have a higher color fidelity. However, it is inevitable that discolours over time.
Can a garden furniture cover be washed in the washing machine?
We strongly recommend two ways to clean your cover and we strongly advise against using the washing machine. Although this seems to be an easy and quick way to quickly clean your garden furniture cover, we can not guarantee that your cover will remain intact. Due to the temperature and the high rpm where your cover is exposed in the washing machine, the PU or PVC coating on the inside can let go and your cover will lose its water resistance.
Cleaning advice 1: We first recommend a soft brush and green soap. We believe this is the best way. The best approach is to make your case thoroughly wet, then rub it with green soap and water. And then gently brush it off and rinse with the garden hose.
Cleaning advice 2: This way of cleaning is the best if you want to clean your dry cover in dry weather. You need this: a green deposit cleaner and a plant sprayer. With the plant sprayer you spray the green deposit cleaner over a dry cover. The algae then absorb the moisture with the deposit cleaner and then die off. After a number of rain showers, the green has disappeared.
Extra tip: After both cleaning methods it can never hurt to spray your cover with a water-repellent spray. This keeps your cover waterproof for longer and ensures that the green deposits are less likely to fasten to the fabric of your cover.
Reaction from a customer: "I have tried it now and both recommend ways of cleaning (the green attack cleaner and the green soap) work perfectly.The green deposits cleaner leaves light spots on the places where the algae were.With a brush that is easy to brush away. soap works right away in the first attempt, but leaves a little more soap residue on the seams, which can be quickly solved with extra rinses, in both cases the cover remains water-repellent. "
I want to transfer money from abroad without iDEAL, is that possible?
Yes, all you need is the following information.
Our IBAN is NL88 RABO 0311 8331 01.
Our BIC is RABONL2U
If you want to transfer money from abroad or pay with Credit Card, Paypal is very safe, easy and fast. Click on the following link for info: PAYPAL
What are the advantages of using PayPal?
It is quick
Payments are processed immediately, faster than checks or money orders.
It is private and secure
PayPal does not provide financial information to sellers.
It is world wide accepted
PayPal is accepted worldwide and can be used for both national and international payments. Choose whether you want to pay with your credit or PayPal account balance.
It is easy
Send money with just a few clicks of your mouse.
It is safe
Security is guaranteed thanks to the best fraud prevention. Make safe purchases without giving your credit card number or financial information.
The order button is missing?
If a cover is out of stock, the order button will expire automatically. The product can not be ordered. Via the contact page you can inform about the delivery time.
Product is out of stock and I would like to order?
If you want to be informed whether a particular cover is back in stock, an e-mail with the description of the article number to info@gardenfurniturecovershop.com is enough. You will receive a response as quick as possible with the information about when we expect the item to be back in stock again.
When will I receive my cover?
All purchases that are paid directly to the webshop by 17.00 with internet banking such as Paypal, Credit Card or MrCash will be delivered within the EU within 3 working days.
If you transfer the money, it will depend on your bank's payment behaviour when you will receive your package. If we have received the money before 16:00, we will send you your order the same day.
I read in the Terms and Conditions Article 4.5 that GFCS is not liable for an incorrect delivery by its carriers. Can I cover this risk?
Once the package has been delivered, the risk lies with the buyer. This risk is small and the package is always traceable with the Track & Trace data. Up to now, it has occurred only one time before that a package had been delivered to an incorrect address. However, this problem was very quickly resolved with one call.
This risk can be covered by sending the package with registered mail. Request a free offer.
Why should I pay shipping costs when I return something?
This is because we try to keep the prices of our products as low as possible. If we would reimburse the return costs, this will have to be reflected in the margins of the garden furniture we offer. In order not to disadvantage everyone with this we have chosen not to reimburse return costs. At the time you received an incorrent delivery from us, we will of course solve this free of charge for you.
When you make your order with Paypal you can get your shipping costs back via PayPal. You must activate Paypal service for free for free. To request a refund, you only need to provide some information and your packing slip and invoice.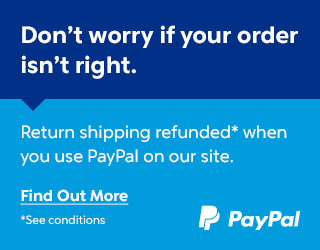 What are the shipping costs?
An up-to-date summary of shipping costs can be found on the Shipping & Returns page.
How can I return an order?
You can return within 14 days of receipt of your order. On the page Shipping & Returns you will find all the information you need for this. In case of incorrect delivery or other complaints, the return costs will of course be reimbursed.
Copyright
All data (texts, graphics, layout, techniques, databases) of this site enjoy copyright protection. Reproducing, disseminating and / or disclosing, in particular without accepting on a website, in whole or in part, is not permitted without our express and written permission. If you would like to use content from our internet presentation outside of our website, please refer to us for the purpose of use.